Athletics
Participation in team and individual sports not only promotes a feeling of family and belonging, but it allows students to develop themselves physically and emotionally. Students gain strength and skills and have the opportunity to develop leadership skills while learning the art of good sportsmanship and fair play.
Tulare Union Cheer Tryouts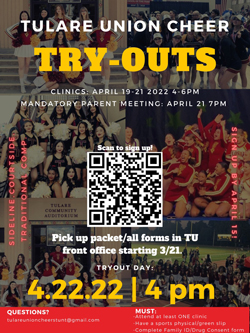 Clinics will take place on April 19–21, 2022, from 4:00 to 6:00 p.m. There is a mandatory parent meeting on April 21 at 7:00 p.m. Sign up by April 15 for sideline, court side, or traditional competitive cheer. Pick up a packet and all forms in the Tulare Union front office starting on March 21 on Monday through Friday from 8:00 a.m. to 4:30 p.m. Tryout day is on April 22, 2022, at 4:00 p.m. You must attend at least one clinic, have a sports physical/green slip, and complete a family ID/drug consent form. Please email us with questions.
2021–2022 Stunt Tryouts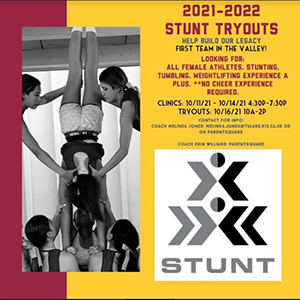 Help build our legacy by joining the first stunt team in the valley! We are looking for all female athletes. Stunting, tumbling, and weightlifting experience is a plus. No cheer experience required. Clinics will take place on Monday, October 11 through Thursday, October 14 from 4:30 to 7:30 p.m. Tryouts are on Saturday, October 16 from 10:00 a.m. to 2:00 p.m. Please contact Coach Melinda Jones via email or Parentsqaure or Coach Erin Williams via Parentsqaure.
Free Athletic Physicals
Join us for free athletic physicals on June 15, 2021, at Tulare Union! All athletes need a physical and clearance to practice and compete.
Athletes can receive their 2021–2022 physical clearance at the end of the event if they complete the following:
Please complete your 2021–2022 athletic physical clearance registration prior to June 15, 2021.
Brings a signed consent form and pre-history medical form to physicals on June 15, 2021, on TU.
Brings a singed drug testing consent form
Brings a signed athletic club registration form for 2021–2022 (proof of insurance)
The doctor clears them at the physicals that night.
Turns in all the paperwork listed above at the last table that night of physicals.
Please pass this information along to our student-athletes. This is extremely important for our Fall athletes who start practices prior to school starting.
Athletes must have physical clearance before they are allowed to practice or try out! For more information, please read our annual pre-participation athletic physicals flyer.
Sports Are Back!
We have the green light! All sports in the purple tier will begin very soon. Those sports include boys and girls cross country, golf, swim, tennis, and track. Please find the most current list of schedules below. Check back often! We will post additional schedules soon.
Joining a Team
All athletes must have a physical before they can practice with a school team. We require every student to have a physical dated within one year of participation. For example, a physical performed in May covers the student until the following May.
Any athletes who plan to compete in a fall sport should get a physical in June or July to ensure readiness by the first day of practice. Please pick up a packet from the nurse's office and complete and sign all the documents.Then, return the packet, including the physical form signed by the doctor, to the nurse who will issue you a green slip to show your coach you are cleared to practice.
Meet the Athletics Director
Diana Nalbandian-Hatton, Athletics Director
Phone: (559) 686-4761, ext. 2400